What is the most common lament that we curators hear from collectors and those lucky individuals who have inherited family heirlooms? Young people today have absolutely no interest in objects from the past. But is that really true? Perhaps, we just need to find the right "hook" to capture their interest. I had the chance to test this theory out at a recent Terrific Tuesdays event, our popular summertime series for kids ages 3 to 10, orchestrated by Winterthur's talented Education Curator Lois Stoehr.
Lois invited me to participate in the Terrific Tuesday in July that was focused on pattern and suggested that I do something relating to Winterthur's major Galleries exhibition Dining by Design: Nature Displayed on the Dinner Table (open through January 6, 2019). Many of the plates and dishes in the show feature brilliantly colored designs, from butterflies and flowers to birds and sea creatures. So, I took a look at our demonstration collection (objects that can be handled by the public) and brought along a nice selection of nature-themed ceramics from the 1700s and 1800s.
I also found photos of a wide range of objects that are included in the Dining by Design exhibition and hung them on the wall, so the kids could see the colors of those original objects. I modified copies of the same photos in PhotoShop and brought duplicates of these along so the kids could color the images any way they liked.
I was astonished by the dozens of children who stopped at my table and asked lots of questions during my discussions of the demonstration objects. "Why is there a caterpillar on that plate?" "Did little kids eat cookies off of a plate like that one?" "How did that teapot get broken?"
I was particularly tickled by their astonished expressions when I told them that the flower- and bug-filled plate they were holding in their hands was made "back when George Washington was a kid." (Nope, George wasn't responsible for the big chip out of the plate rim!)
After we finished discussing the ceramic dishes, kids young and old grabbed favorite pictures, threw themselves on the floor, and dove into the colored pencil containers.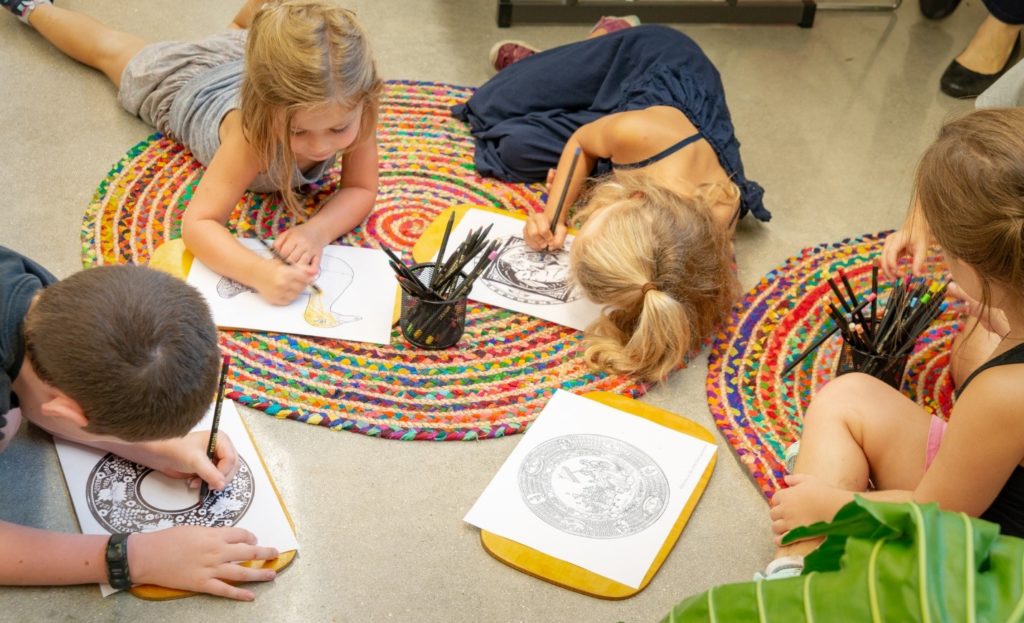 I think that I enjoyed myself even more than the kids did. (Lois, count me in for Terrific Tuesdays next year, too!)
Terrific Tuesdays runs through August 28 with activities and special guests focused on color, form, and other elements of art. Join us for the next Terrific Tuesdays!
Post by Leslie Grigsby, Senior Curator of Ceramics and Glass, Winterthur