Our recent blog posts have chronicled the dollhouse donated to Winterthur, with the most recent posts detailing the cleaning and conservation treatments. After completing those intricate tasks and treatments, it was time to begin the re-installation process. This meant using photographs showing the way the dollhouse was last assembled by its creator, Nancy McDaniel. We wanted to arrange the miniatures in a manner true to Nancy's vision.
Every room had an average of 50 miniatures, and as we secured each item into place, we documented it on a Canon T4i camera. These videos allow a viewer to enjoy each room as it comes together piece by piece. Altogether 18 stop-motion videos were made, one for each room.
The only thing these videos are missing is the installation of Christmas, Nancy's favorite time of year. She was an enthusiastic gift giver throughout the entire year, but Christmas was the season of giving. We know she ran a number of charities and fundraisers; most notable among them was her community's Festival of Trees. And of course, it was Nancy who saw to it that garlands and wreaths draped her town during the holiday season. So it should come as no surprise to learn that dozens of miniature Christmas decorations accompanied the dollhouse as well. Unfortunately, the photographs we referenced to re-install the dollhouse did not include pictures of the house decorated for Christmas. So what to do? How would we deck the halls without all the necessary information?
First, we reached out to Nancy's friends and family. Perhaps they would remember. Through her friends and family, we learned the ways in which Nancy decorated her own home. To start, there were seven Christmas trees, one of which was decorated entirely with unique silver ornaments, while another was covered in 474 needlepointed ornaments made by Nancy herself. Nutcrackers stood guard in almost every room, and her handmade crèche greeted visitors near the front door.
After spending nine-and-a-half weeks tending to her dollhouse and talking to her friends and family, we felt like we had gotten to know Nancy a little. So, equipped with what we had learned about her own home, our own studies of Nancy's attention to color and arrangement in the rest of the dollhouse, and just a little dash of good old-fashioned fun, we installed the delightful Christmas decorations. In total, we used 45 of the 116 miniature wreaths and three Christmas trees as well as dozens of other irresistibly festive details. To fully appreciate the scale of Nancy's achievement, you will have to visit the dollhouse and see it decked out for the holidays during Yuletide at Winterthur.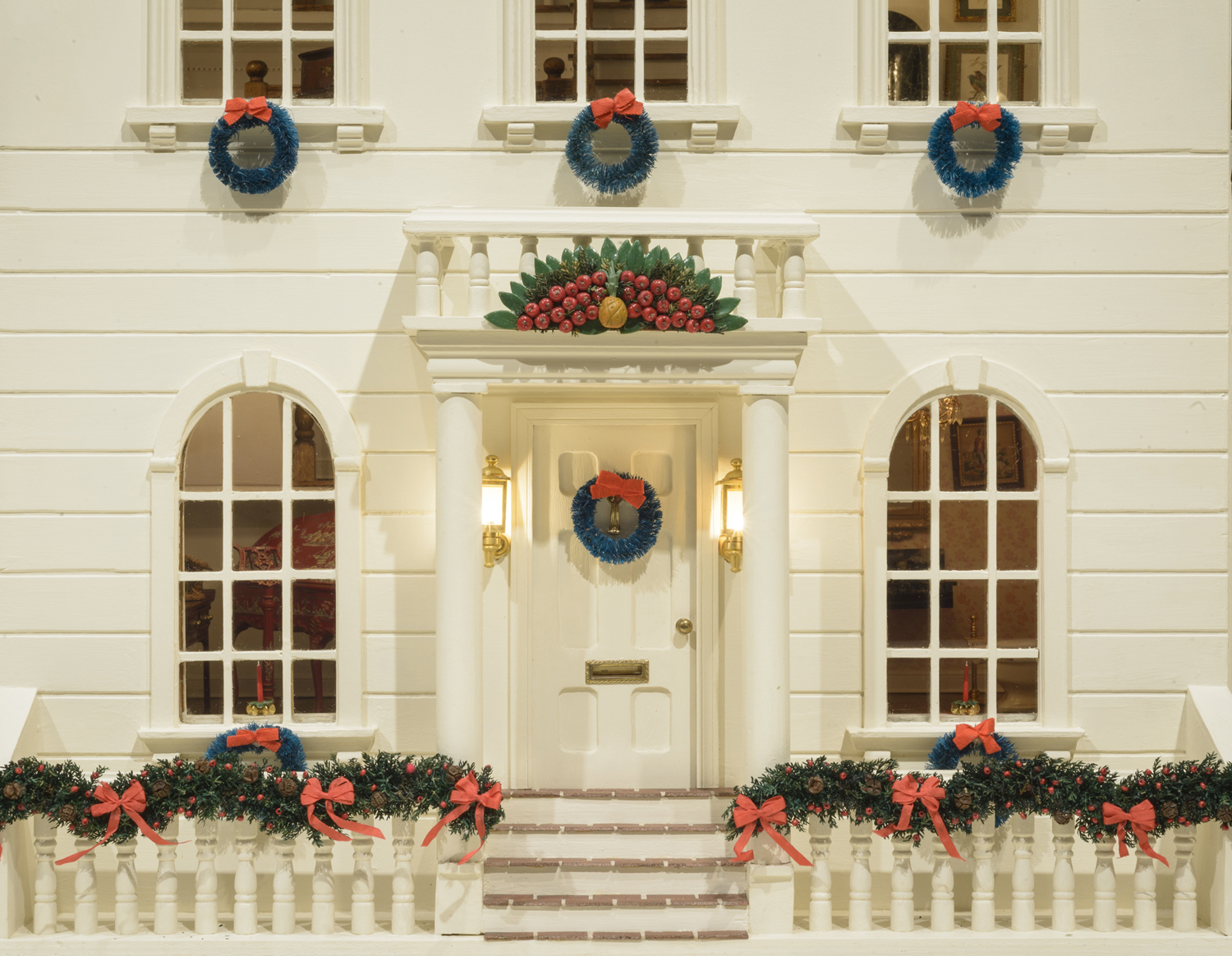 Post by Karissa Muratore and Amanda Kasman, University of Delaware Art Conservation undergraduates who completed a summer internship at Winterthur Museum preparing  the dollhouse for display.