You were introduced to Winterthur's doll "mansion" in our previous blog post, and already the museum visitors have expressed lots of anticipation for the doll house's Yuletide debut in 2016. Before that can happen, however, various conservation problems must first be solved.
The prevalence of Blu-tack and wax in many rooms and on many miniatures is one such problem. Blu-Tack was used because of its superior ability to hold heavy objects of many materials firmly in place. In the long-term, however, Blu-Tack poses the risk of staining porous materials due to the mineral oil within it and causing surface loss in addition to collateral damage if the adhesive fails. Wax, while collecting dust and grime, is generally regarded as having fewer deterioration-related risks. For this reason, we intend to remove as much Blu-Tack and old wax as possible, replacing it with the minimum amount of fresh wax. In most cases, objects can be held as firmly with wax as Blu-Tack, but miniature paintings on the walls, for example, will require a stronger adhesive in the absence of Blu-Tack. Since each piece of wall decor is different, ranging from lightweight textiles to metal racks filled with pans and even antique daguerreotypes, we are currently researching and testing a variety of methods appropriate for each case.
Another issue is the lifting and cracking of the inlaid wood veneer floor in the living room, along with more minor cracking in two other rooms and the complete separation of the linoleum-like flooring in the kitchen. In the coming week, we hope to identify which adhesive will work best for each material and issue, so that we can implement them before commencing reinstallation.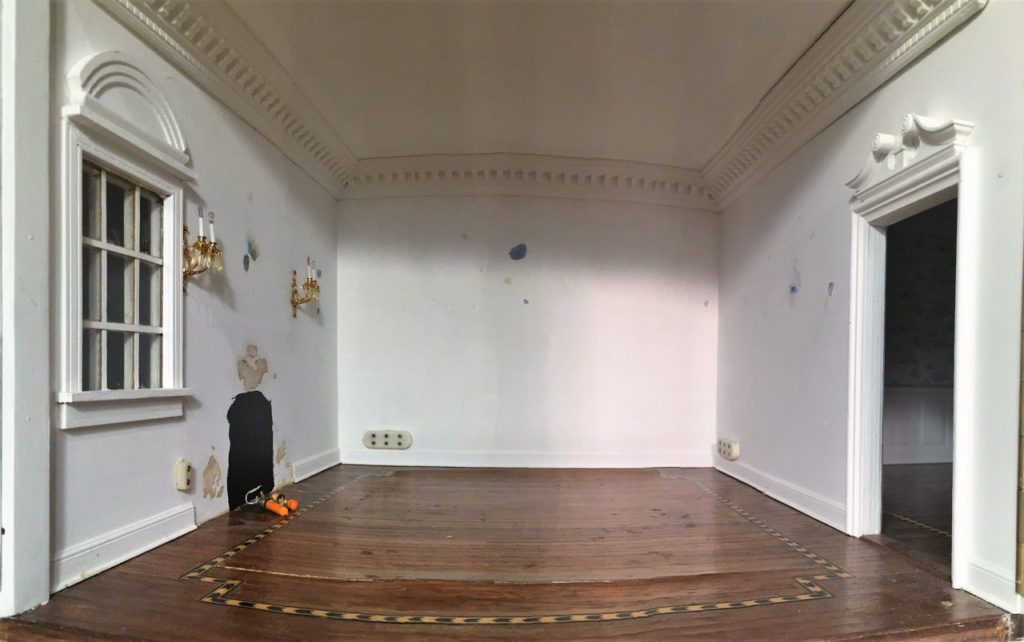 An additional material of interest in the dollhouse is sterling silver. Many of the decorative serving objects and utensils do not simply seem like silver, but, in fact, are silver, most of which were fashioned by Peter Acquisto and Guglielmo Cini, and some of which were special order items. Unfortunately, since silver has a tendency to tarnish and a number of the objects are already showing signs of such, we had to address the problem thinking long term. We could certainly polish the silver, but since disturbing the installed furnishing could compromise the preservation of the house as a whole, we have decided, after research and consultation, to lacquer the silver. This will allow the pieces to remain untarnished for decades to come.
All of these treatments and more, usually performed in conservation labs that are out of the public eye, will be done in an accessible space near the entry of the Galleries. We encourage you to come visit us, stay a while, and chat with us as you observe our progress in readying the dollhouse for its Yuletide debut.
Post by Karissa Muratore and Amanda Kasman, University of Delaware Art Conservation undergraduates doing a summer internship at Winterthur Museum