This year's Ceramics Conference at Winterthur, April 23–24, focuses on ceramics that were marketed internationally—from China to the United States to Mexico and beyond.
Four ceramic figures from the Winterthur collection—the Four Quarters of the Globe, made by the Derby Porcelain Factory, Derby, England, about 1770—certainly may have appealed to an international audience of ceramics buyers, sellers, and collectors. The allegory of the four largest land masses was a popular theme in continental Europe and England at the time they were created. The four continents are each depicted as cherubic children standing on a floral-encrusted base, displaying the attributes and symbols of their individual continent.
Europe, the crowned queen of all continents, has an orb in her right hand and holds her left hand high. She may have once held a scepter in her left hand now lost. She is draped in royal robes and is surrounded by various objects of art and warfare, such as a helmet, a gavel, mathematical instruments, a cornucopia of grapes and fruits, a palette, books, and a bishop's hat.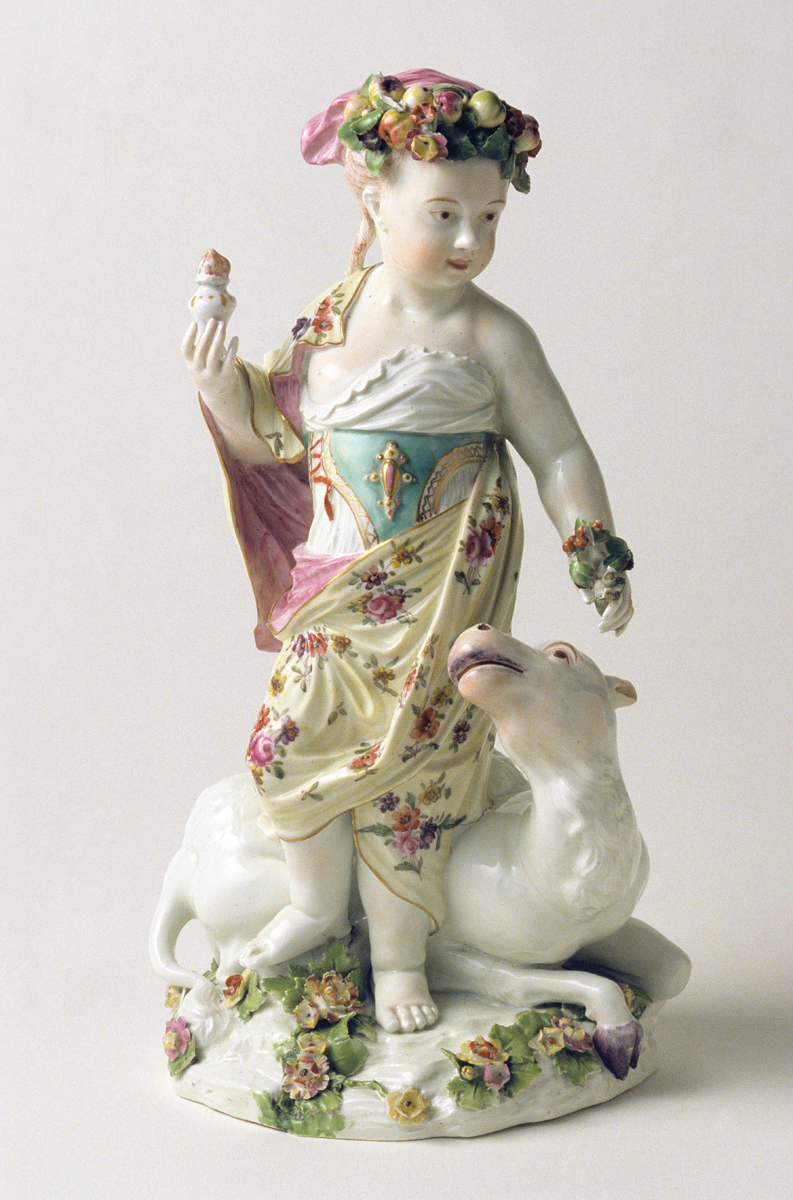 Asia, the continent of exotic riches, is draped in flowered silks with a jeweled bodice. She wears a crown of leaves, fruits, and berries. In her left hand she holds berries; in her right hand is a vase from which flames arise, an incense burner. At Asia's feet lies her symbolic animal, the camel.
Africa, considered the historic breadbasket of the Roman Republic, holds a cornucopia filled with wheat tips and flowers in her left arm and in her right palm grasps a lobster or crawfish. She wears a headdress of the hide of an elephant's head and trunk and a coral necklace from the Mediterranean Sea. Africa stands with her left knee resting on her animal, the lion.
America is displayed, wearing a feathered band around her head and a skirt lined with feathers. A quiver of arrows hangs at her waist from a band worn across her chest. The tail feathers of an arrow are held in her right hand, the arrow has been broken off, and a bow is cradled in her left arm. America is depicted standing, her foot resting on the back of her native beast, the alligator.
The original source for the Four Quarters of the Globe was Cesare Ripa's Iconologia, the first modern book on the science of images. First published in Rome in 1593 without illustrations, a second edition was later published in 1603 with 684 concepts and 151 woodcuts. The emblem book drew on classical symbolism known from coins, ancient books, and sculpture to give substance to qualities such as virtues, vices, passions, and arts and sciences.
The Winterthur set of the Four Quarters of the Globe is one of three known to exist in the United States. The Birmingham Museum of Art and Colonial Williamsburg own the other two sets. The Winterthur set can be seen in the museum on the 4th floor in Blackwell Parlor.
Please join us for lectures presenting recent research by Winterthur staff and an international group of respected visiting scholars. Attend hands-on workshops offering up-close access to the unparalleled, world-renowned Winterthur collection.
For more information or to register, please visit winterthur.org/ceramicsconference.
Winterthur thanks the J. and H. Weldon Foundation, Inc., for its support of the Ceramics Conference.
Post by Hilary Seitz, Marketing & Communications Department