Until the promotion of textiles designed by well-known artists came to the fore in the early twentieth century, designers for printed textiles had, in general, remained anonymous. We can document little about the majority of those designers who worked in the eighteenth- and early nineteenth-century calico printing industry, but we can contextualize their experiences from the fragmentary information available for some who were more famous.
By the middle of the 1700s, the role of artists and designers was fluid, competitive, and rapidly growing as a boom in the middle-class consumer market resulted in high demand for quality design for a wide variety of goods. This elevated status of design resulted in a huge increase in the number of instruction manuals and pattern books that were available to artisans. Painters, engravers, publishers, print sellers, calico printers, and potters all jumped on the bandwagon, demanding high-quality designs depicting fashionable botanical specimens, patriotic events, theatrical successes, and country scenes that resonated with the public.
To fulfill that need, London publishers like Robert Sayer promoted and popularized designs that were relevant to a variety of artisans. One of his most widely known treatises, The Ladies Amusement; or, Whole Art of Japanning Made Easy, was published in 1760, 1762, and 1769. The volume highlights the work of Frenchman Jean Pillement, whose designs can be found on ceramics, furniture, silver, tapestries, and wallpaper in addition to printed cottons. Similarly, Peter Casteels, who was well known in London as a painter of flowers and exotic birds, was the source of designs for a wide range of products through his involvement with the publication of the iconic Twelve Months of Flowers. Those prints were copied extensively and were even sent to India to serve as patterns for palampores imported back into London.
The earliest printed cottons and linens, called "indiennes" in France, were consciously designed in imitation of popular imports from India. Those fantasy floral designs have been revived on a regular basis ever since, but real flowers were also depicted on printed textiles, often copied or adapted from botanical illustrations and publications on native plants of the period. For example, Flora Londinensis by William Curtis, published in 1777, was the source for numerous copperplate designs printed at Bromley Hall. Calico printer Joseph Talwin, a partner in the firm, was a subscriber to the first edition of that publication.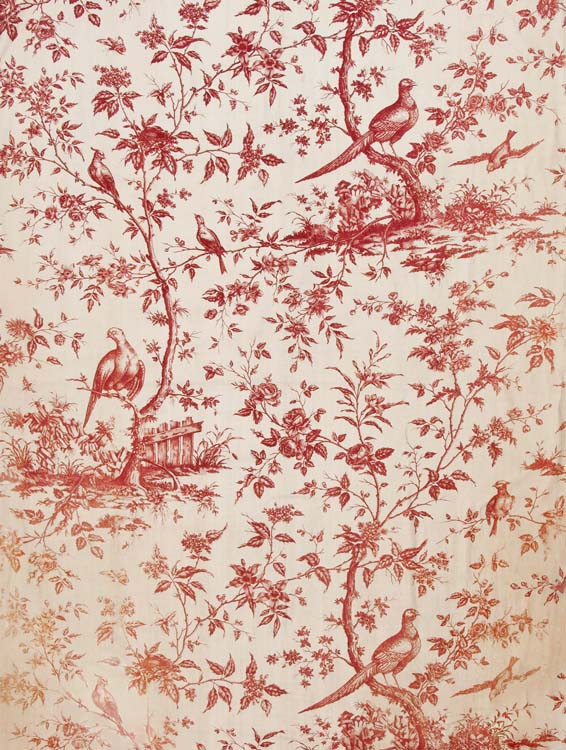 Many designs with flowers, birds, and other animals were also taken from books published specifically for pattern drawers (an early name for designers), such as Robert Sayer's New Book of Birds (1765). This, in turn, was indebted to Francis Barlow's engravings published from the early 1650s to 1694, generally known as "Barlow's Birds." These are regarded as the first British ornithological prints—lively and accurately rendered. The Winterthur collection contains numerous Barlow-style birds among the printed textiles. Sayer also sold Various Birds and Beasts Drawn from the Life by Francis Barlow and included Barlow prints in his own mid eighteenth century publications, all of which found their way onto textiles printed in the second half of the century. "It was really only with the publication of images by John Audubon [Birds of America] and others in the second quarter of the nineteenth century that Barlow's birds were supplanted."1
No matter the design source, in the eighteenth and early nineteenth centuries, quality and cost were at the forefront of discussions by those advocating copyright protection. William Kilburn, one of the leading supporters of acts passed in 1787 and 1794 alleged that he lost £1,000 per year because his popular patterns were being reproduced by others. Lancashire printers were usually blamed for such transgressions. It was claimed that they saved costs by using cheaper materials and copying only those designs that were known to be successful.
Dating Designs
Dating printed textiles can be problematic, as few have survived with an accurate provenance. With the help of pattern books, however, scholars have been able to identify many examples. Such has been the case particularly for the nineteenth century, for which patterns and design trends are documented in unusually complete extant records. Bannister Hall records exist for the 1790s through 1840, and the Stead McAlpin archives begin in 1835 and continue into the 1900s. Joseph Lockett's records of engraved designs for the years 1806 to 1840 survive in the form of cylinder strike-offs on paper; the extensive, although incomplete, holdings of the Calico Printers' Association in Manchester throw light on the period 1818 to 1837; and an enormous corpus of material is deposited at the National Archives in London, where thousands of cloth samples were registered for design copyright from 1842 to 1910.
Another factor that complicates the accurate dating of textiles is the fact that designs have frequently been repeated, revived, and altered, sometimes over a period of decades. Designers have been known to incorporate different motifs from one publication or cut and paste from several, making the accurate identification of an original source a difficult prospect.
Thankfully this is not always the case. The firm of Brunschwig & Fils has been licensing designs from Winterthur's collection since 1971, a time when accurate reproductions of historic fabrics were highly fashionable. Their Bird & Thistle toile is based on a pattern dated stylistically to between 1785 and 1815. The pattern was produced originally with copper plates as well as engraved cylinders, and the plateprinted version has been in continuous production as a screen print since 1974.
As in the past, today's artisans continue to be inspired by what has come before. Designer and historian Susan Meller has described the phenomenon most eloquently: "The patterns of printed cloth suggest a larger pattern that contains them—what we may call the recycling wheel, which sets the motifs of textile designs on a circular road of eternal return. Nothing disappears, and nothing appears out of nowhere. Just as the individual pattern repeats incessantly over the course of a print run, its motifs are in repeat over the course of the decades."2
Excerpted from Linda Eaton, Printed Textiles: British and American Cottons and Linens, 1700–1850 (Published for Winterthur by The Monacelli Press, 2014).
1 Mary Schoeser, "A Secret Trade: Plate-Printed Textiles and Dress Accessories, c. 1620–1820," Dress 34 (2007). I am grateful to Mary Schoeser for identifying so many of Barlow's birds in the Winterthur collection.
2 Susan Meller and Joost Elffers, Textile Designs: Two Hundred Years of European and American Patterns Organized by Motif, Style, Color, Layout, and Period (New York: Abrams, 1991), 14.
Printed Textiles: British and American Cottons and Linens, 1700–1850 is now available at the Winterthur Bookstore. Author Linda Eaton, the John L. & Marjorie P. McGraw Director of Collections and Senior Curator of Textiles at Winterthur, has produced the worthy sequel to Florence Montgomery's 1970 publication, Printed Textiles. Focused primarily on fabrics used as furnishings referred to as "furnitures" rather than dress fabrics, the new volume addresses the textiles industry in both Britain and America, international trade, designers and design as well as the chemistry and technology of printing on cottons and linens.