Like millions of people around the world, Dave Roselle is a big Downton Abbey® fan. Unlike anyone else, Dave is director of Winterthur. In the fall of 2012, he asked Tom Savage, director of  Museum Affairs, if it would be possible to have an exhibit of the costumes that were appearing weekly on the show that so fascinated him. After the briefest of pauses, Tom recollected that his dear friend Lady Clifford of Chudleigh was also a very close friend with Julian Fellowes, the producer and creator of the wildly popular British period drama Downton Abbey. In a whirlwind few months, phone calls were made, cups were raised, and contracts were signed. Tom formed his exhibition team, and Dave's idea took shape. Beginning March 1, Costumes of Downton Abbey will be on view at Winterthur, featuring 40 costumes from the television show supplemented by video clips, photographs and vignettes inspired by the fictional program and by real life at Winterthur.
The costume designers for Downton Abbey rely on Cosprop, a British costume supply house already well-known to the Winterthur staff.  This company, founded in 1965 by John Bright, specializes in original and reproduction period clothes that they rent out to film, stage, and television production companies.  In 2006, Winterthur exhibited Fashion in Film, which consisted of original costumes from Cosprop made for such films as Titanic, Ever After, Elizabeth, Sense & Sensibility, Dangerous Liaisons, and more. Among all the shows that have appeared at Winterthur, Fashion in Film ranks number one in attendance. Besides being a fan of Downton Abbey and the director of Winterthur, Dave is a mathematician. He never ignores important numbers.
As part of the exhibition team, I flew to London to choose  the costumes. This was not a simple task.  Cosprop is huge, with a staff of about 100 and a collection of hundreds of thousands of costumes. For two full days, Cosprop staffer Christine McSweeney and her assistant Judith Bright helped hunt down the outfits destined for Winterthur.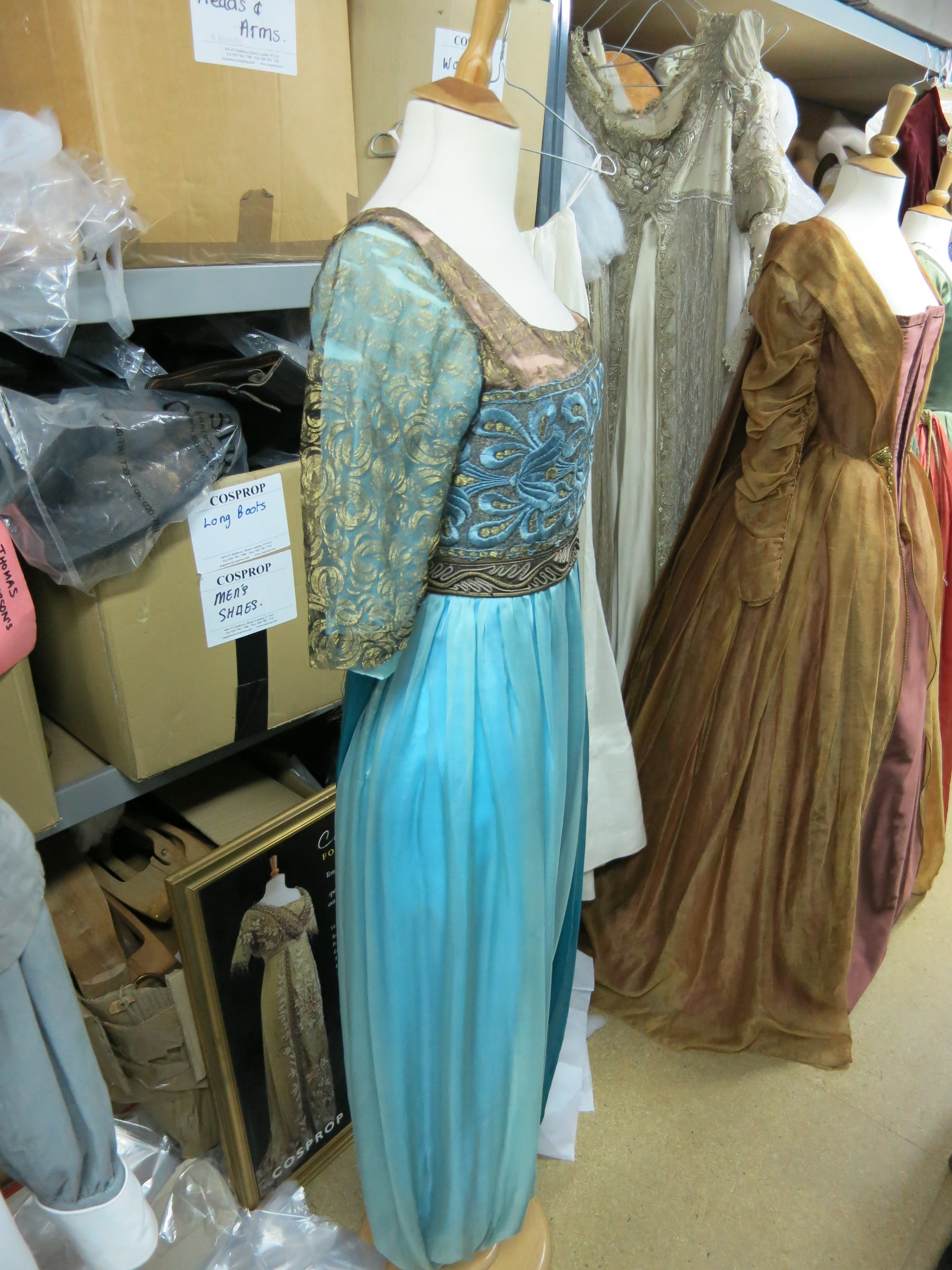 Most of what we wanted was found within the first hour. The women's evening dresses—Sybil's blue harem pants, Mary's deep red engagement gown, Violet's purple ensembles—were instantly recognizable. The men's clothes were more difficult. For instance, the "wrong" tweeds worn by Richard Carlisle, (a plot twist in Season 2) had been returned to the rental racks. It took a lot of time and assistance to find the exact pieces required.
The hardest costume of all to track down was that worn by Daisy, the kitchen maid.  In hindsight, this is not surprising. As Winterthur textile curator Linda Eaton notes, everyone in the future will think 21st-century Americans wore white satin gowns all the time because wedding dresses get saved more than any other type of clothing. The rarest pieces are those worn every day, because they get worn out and thrown away.  The humble is rarely preserved. So it was at Cosprop. We examined every single droopy frock in a very long aisle of basic garb (for servants/poor/crowd). While dry cleaner bags protected many of the other clothes, and the most iconic outfits were draped onto mannequins, this sad attire was squashed together. Dust and creases only added to their verisimilitude. One dolorous costume after another was examined until, finally, the deep grey dress with its washed-out black plaid collar, worn by the actor Sophie McShera as the character of Daisy, was located.
We were not finished yet as the most elusive bit, Daisy's thin cotton apron, remained to be found. Cosprop' s large collection of aprons loomed insurmountably ahead of us. How could we even identify it? The thick walls of the warehouse blocked the service of our cell phones and iPads, so it was over to Christine's desktop computer to search for more images online, hoping they might help. Blown-up pictures of Daisy revealed that the apron worn with the grey dress had some sort of barely discernible pattern on it. This gave us courage as we ransacked box after box. I had never been conscious before of the range available: patterned/un-patterned/bib/no bibs, as well as large, small, tiny, huge, etc.  Finally we "'struck gold."  We found the badly faded, worn-to-a-tatter apron. No small task indeed. In retrospect, though, our joy at that moment seems a little extreme!
For more information, please visit winterthur.org/downtonabbey.
The exhibition at Winterthur is presented by
With support from the Glenmede Trust Company
Downton® and Downton Abbey®. A Carnival Films/Masterpiece Co-Production.
Post by Winterthur Estate Historian and Garden Objects Curator Maggie Lidz. Maggie is co-curator of Costumes of Downton Abbey.
All photos taken at Cosprop Ltd., London, contributed by author.