The Look of Love: Eye Miniatures from the Skier Collection, on loan to Winterthur from the Birmingham Museum of Art, and Winterthur's adjunct exhibit, Winterthur Looks at Love, open in the Galleries on Saturday, September 21, 2013.
Lest you think an exhibition of such miniature objects—tiny brooches, rings, lockets, pendants, small boxes, toothpick cases, and other tiny pieces—would require a small amount of preparation to share with the public, here is a behind-the-scenes glimpse at some of the final steps that went into launching this unique exhibition of lover's-eye jewelry from late 18th- through early 19th-century England.
Crates containing both objects and display cases arrived from the Birmingham Museum of Art on September 5. These were followed shortly by BMA staff members, who were charged with condition reporting and installing the tiny little amazing "eye miniatures," which will be displayed in Winterthur's East Gallery through January 5, 2014.

The meticulous work of checking each object in took days. After the pieces were each checked in and confirmed stable, they were installed in their mounts by BMA staff.
Specialty cases, outfitted with custom fiber optic lighting to highlight and spotlight these tiny works of art—many of them lavishly adorned with jewels—arrived with the exhibition components. In addition, each case had a space for a desiccant, or drying agent, to help maintain humidity control within the case itself.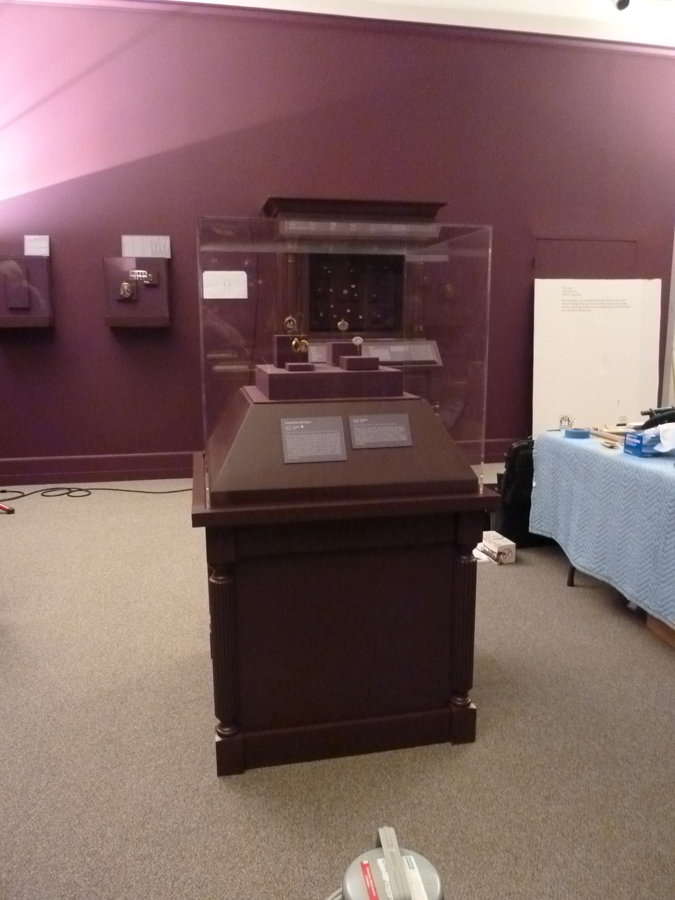 Meanwhile, Winterthur staff worked on prepping an adjunct gallery space for our own installation of eye miniatures, Winterthur Looks at Love.  Winterthur has developed a small accompanying exhibition that brings the art of eye miniatures into the 20th century and looks at some modern day examples of this extraordinary artwork!
Because of the incredibly tiny nature of these eye miniatures, the BMA has loaned Winterthur iPads loaded with an opportunity to allow visitors to see the BMA exhibition objects at up to 20 times their actual size.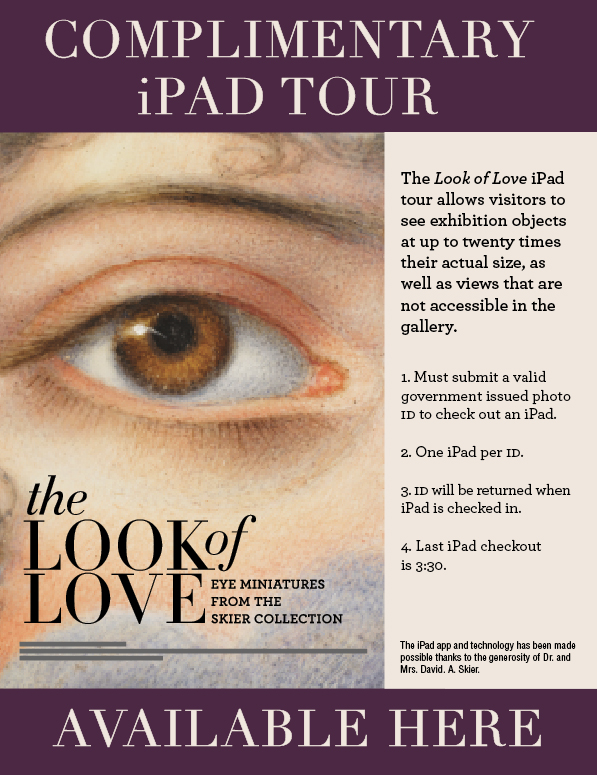 Now that you've seen the behind-the-scene tour, come and see the real thing – The Look of Love opens Saturday, September 21, 2013!
The Look of Love: Eye Miniatures from the Skier Collection has been organized by the Birmingham Museum of Art. The installation at Winterthur is sponsored by Dr. Richard C. Weiss and Dr. Sandra R. Harmon-Weiss, with additional assistance from Pam and Jim Alexander, Laurel Riegel, and Coleman and Susan Townsend.
This loaned exhibition will be on display in the East Gallery. All exhibitions are included with admission and are free to Winterthur Members.
This blog was contributed by Felice Jo Lamden, director of exhibitions, Winterthur.